TOTF EXCLUSIVE: Kylie Minogue | All I See (2008)
22 February 2008 // 8:24 PM


Here it is, guys! The first Top of the Flops exclusive! The promo disc for Kylie's first US single from her tenth album, "X"!

Tracklisting:
1. All I See
2. All I See (W/Rap Intro) - feat. Mims

Click here or here to download "All I See"
Password: topoftheflops
Labels: Exclusives, Kylie Minogue
Jennifer Lopez | I'm Glad (2002)
21 February 2008 // 11:25 AM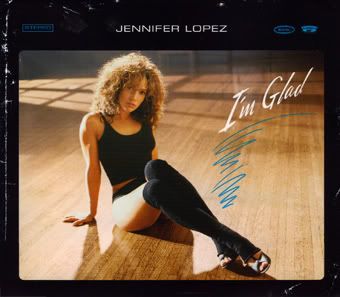 "I'm Glad" was the third single lifted from Jennifer Lopez's third album, "This is Me... Then." The single failed to stand up to the albums' previous two singles, "Jenny From the Block" and "All I Have," peaking at #32 on the Billboard Hot 100 and barely scraping the Top 10 in most countries. The track failed to garner interest in the UK, peaking at #11 and dropping quickly off of the charts.

Tracklisting:
1. I'm Glad
2. I'm Glad (Paul Oakenfold Perfecto Remix)
3. I'm Glad (Ford's Siren Club Mix)
4. All I Have (Ignorants Remix) - feat. LL Cool J

Click here to download "I'm Glad"
Password: topoftheflops
Labels: Jennifer Lopez
Shakira | Whenever, Wherever (2002)
20 February 2008 // 7:54 AM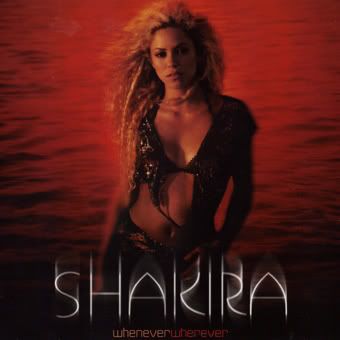 In 2001, following the success of her "¿Dónde Están Los Ladrones?" and "MTV Unplugged" records, Latin pop diva Shakira began working on an English crossover album. Collaborating with Gloria Estefan, she wrote and recorded over three dozen tracks for the record.

Her first English single, "Whenever, Wherever" was co-written by Estefan and produced by Tim Mitchell. The track went on to become the most successful international hit of her career, topping the charts in numerous European and Latin American countries, as well as Australia and Japan.

Tracklisting:
1. Whenever, Wherever
2. Whenever, Wherever (TV Edit)
3. Suerte
4. Suerte (TV Edit)

Click here to download "Whenever, Wherever"
Password: topoftheflops
Rachel Stevens - Funky Dory (2004)
// 7:53 AM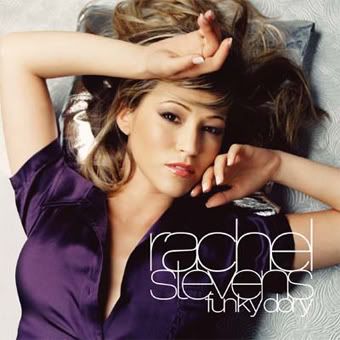 "Funky Dory" is the solo debut album by former S Club 7 pop tart Rachel Stevens. The album was produced by various "hit factories" including Bloodshy & Avant and Richard X but received a mixed reception from music critics, some of whom complimented its surprising diversity, charm and relative depth, while others though of it to be poorly written, produced and forgettable.

Despite critical commentary, it became Stevens' most successful album release, reaching #9 in the UK. Sales were slow and the albums' second single tanked, prompting Polydor to send Rachel back into the studio to record tracks for a re-release of the album. This proved a successful move when "Some Girls" nearly topped the UK singles chart, just barely missing the #1 spot.

The re-release peaked at #13 in the UK and went on to sell more copies than the original release and yielding one further single, a cover of Bananarama's "More, More, More."

Tracklisting:
1. Some Girls
2. Sweet Dreams My LA Ex
3. Funky Dory (Single Mix)
4. Fools (Princess Diaries 2 Version)
5. Breathe In, Breathe Out (SWAT-Team Version)
6. Glide
7. Heaven Has to Wait
8. More, More, More
9. Blue Afternoon
10. I Got the Money
11. Little Secret
12. Solid
13. Silk

Click here to download "Funky Dory"
Password: topoftheflops
Labels: Rachel Stevens, S Club 7
La Toya Jackson - Why Don't You Want My Love? (1991)
18 February 2008 // 11:39 AM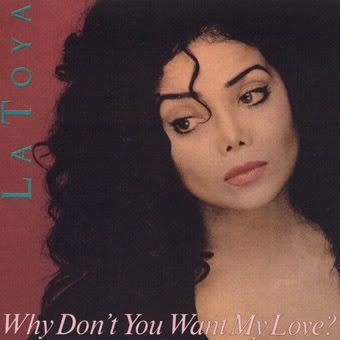 After the massive failure that was her 1989 "Bad Girl" album, La Toya Jackson signed a deal with BCM Records to release her seventh musical offering. A wealth of material was recorded in the fall of 1990 for an album to follow the first single in the spring of '91.

The label started a huge print campaign for "Why Don't You Want My Love?", advertising the single with the caption "A fresh new start with BCM." The track was originally scheduled for a release in fall 1990 but was delayed several times until its release in January 1991. Released in Germany, Austria and Switzerland, it was intended to be the lead single for the disc, but the company went bankrupt before the album could be released. "Why Don't You Want My Love?" was the only song to be released from La Toya's time with BCM and it is not known what happened to the rest of the material that was recorded.

The single was released on 7", 12" and CD formats, but failed to reach the charts. La Toya was quickly snatched up by Pump Records, a division of Dino Records, and released a new single and album just a few months later.

Tracklisting:
1. Why Don't You Want My Love? (Radio Version)
2. Why Don't You Want My Love? (Original Version)
3. Why Don't You Want My Love? (Bruce Forest Remix)
4. Why Don't You Want My Love? (Bruce Forest Remix Instrumental)

Click here to download "Why Don't You Want My Love?"
Password: topoftheflops
Labels: Jacksons, La Toya Jackson
Ronan Keating | Turn It On (2003)
// 11:38 AM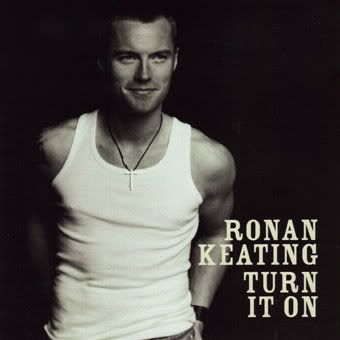 "Turn It On" was Ronan Keating's third solo album, released during the holiday season of 2003. Despite having two chart-topping albums under his best, Ronan couldn't quite keep up the momentum with "Turn It On," which peaked at a paltry #21 in the UK.

Two of the singles from the album, "Last Thing On My Mind" and "She Believes (In Me)," charted within the Top 5 in the UK, with the third, "Lost for Words," charting at #9. Even with the success of the singles, the album simply fell off the charts without a trace.

Tracklisting:
1. Turn It On Again
2. Lost For Words
3. She Gets Me Inside
4. First Time
5. Last Thing On My Mind - Ronan Keating & LeAnn Rimes
6. Let Her Down Easy
7. Back In The Day
8. She Believes (In Me)
9. On My Way
10. The Best Of Me
11. Hold You Now
12. This Is Your Song
13. I Wouldn't Change a Thing
14. Give You What You Want

Click here to download "Turn It On"
Password: topoftheflops
Labels: Boyzone, Ronan Keating
Victoria Beckham | Not Such An Innocent Girl (2001)
17 February 2008 // 9:14 AM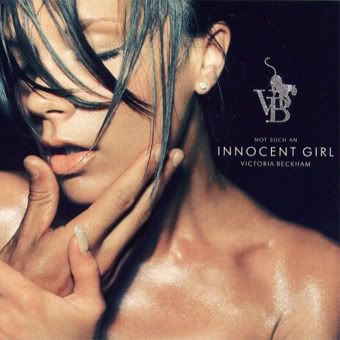 "Not Such An Innocent Girl" was the first single to be released from the long-awaited solo debut from Posh Spice Victoria Beckham. After intense promotion lasting six weeks in the UK, people were expecting big things from the only Spice Girl not yet to have a solo #1. Unfortunately, the single reached #6, which led to a virtual media field-day. The single sold 36,000 copies in its first week, and over 80,200 altogether, the 163rd best seller of 2001.

The track failed to chart in most European territories despite her high celebrity profile, but did manage to chart within the Top 10 in Spain and the Top 40 in Australia and Spain.

Tracklisting:
1. Not Such An Innocent Girl
2. In Your Dreams
3. Not Such An Innocent Girl (Sunship Mix) - feat. M.C. RB

Click here to download "Not Such An Innocent Girl"
Password: topoftheflops
Labels: Spice Girls, Victoria Beckham
Delta Goodrem | Believe Again (2007)
// 9:13 AM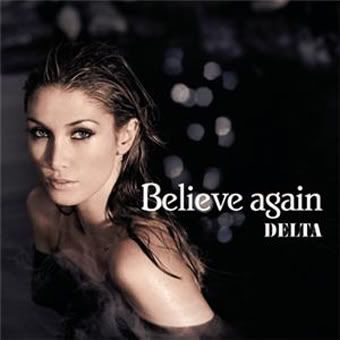 "Believe Again" was the second single released from Delta Goodrem's 2007 "Delta" album. The song received a 4.5/5 star review from The Sun Herald, praising its big strings, vocals, beats and accompanying video.

The track was released to radio in mid-November 2007. It became the most added song on Australian radio that week, while Delta's previous single, "In This Life," remained in the #1 spot on the Australian Airplay Chart. When released physically, the single debuted at #2 on the ARIA chart.

Tracklisting:
1. Believe Again
2. Fortune and Love
3. Believe Again (Tommy Trash Remix)
4. Believe Again (Electrodex Remix)

Click here to download "Believe Again"
Password: topoftheflops
Labels: Delta Goodrem
Lil' Kim | Crush on You (1997)
16 February 2008 // 10:31 AM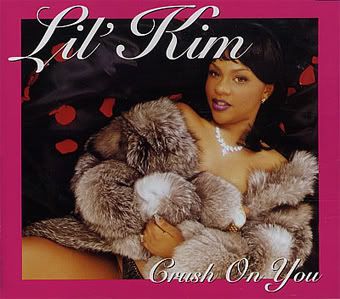 After leaving hardcore the rap group Junior M.A.F.I.A., the Queen Bee Lil' Kim struck out on her own. Her debut solo album "Hard Core" was released in late 1996 and has since been heralded as one of the best hip-hop albums of all time.

The album's second single "Crush On You" is one of Kim's biggest hits, peaking within the Top 20 in the US and Top 25 in the UK.

Tracklisting:
1. Crush on You (Squeaky Clean Radio Edit)
2. Crush on You (Desert Eagle Discs Remix - Short/Clean)
3. Crush on You (Desert Eagle Discs Remix - Instrumental)
4. Crush on You (Aim Remix)
5. Crush on You (Aim Instrumental)
6. Crush on You (A Cappella)

Click here to download "Crush on You"
Password: topoftheflops
Labels: Lil' Kim
Jessica Simpson | A Public Affair (2006)
// 10:30 AM


Jessica Simpson's fourth album, and first following her divorce from crooner Nick Lachey, was released via Epic Records in the summer of 2006 to little fanfare. The album received scathing reviews in the press and has been criticised for its lack of originality and its similarities to 70s and 80s disco and pop music without a contemporary spin, namely the striking similarities between the title track and Madonna's anthem "Holiday."

The album shipped 500,000 copies in the US but many were left unsold. On a worldwide scale, the album has seen a fortune almost just as bleak, selling under 800,000 copies. The lead single, "A Public Affair" was the first single released from the record but failed to catch on, peaking at #39 on the Billboard Hot 100 and #20 in the UK.

A second single was released from the album called "I Belong to Me," which was not featured on original pressings of the album. (Subsequent pressings have included the song as a bonus track tacked to the end.) The single bombed and the record was quickly forgotten about.

Tracklisting:
1. A Public Affair
2. You Spin Me 'Round (Like A Record)
3. B.O.Y.
4. If You Were Mine
5. Walkin' 'Round In A Circle
6. The Lover In Me
7. Swing With Me
8. Push Your Tush
9. Back To You
10. Between You & I
11. I Don't Want To Care
12. Fired Up
13. Let Him Fly
14. A Public Affair (Extended Version)


Click here to download "A Public Affair"
Password: topoftheflops
Labels: Jessica Simpson
Ladies of Moulin Rouge | Lady Marmalade (2001)
15 February 2008 // 1:46 PM


Although covered many times since the 1975 Labelle original, the most successful version of "Lady Marmalade" was recorded 26 years later by pop superstars Christina Aguilera, Lil' Kim, Mýa, and P!nk as a single for the "Moulin Rouge!" soundtrack, introducing the song to a whole new generation of music listeners, and brought the song's infamous catchphrase back into mainstream culture.

Their version was a #1 hit on the Billboard Hot 100 in the US for five weeks and also topped the singles charts in the UK and Australia.

Tracklisting:
1. Lady Marmalade (Edit)
2. Lady Marmalade (Thunderpuss Radio Mix)
3. Lady Marmalade (Thunderpuss Club Mix)
4. Lady Marmalade (Thunderpuss Mixshow Mix)

Click here to download "Lady Marmalade"
Password: topoftheflops
Labels: Christina Aguilera, Lil' Kim, Mýa, Pink, Theme Songs
M2M | Don't Say You Love Me (1999)
14 February 2008 // 3:54 PM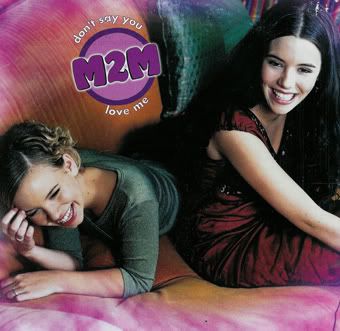 Norwegian pop music duo M2M was composed of two girls - Marion Elise Raven and Marit Elisabeth Larsen, who had known each other since they were small children.

The group debuted with their first single, "Don't Say You Love Me," in 1999, which was featured on the soundtrack of "Pokémon: The First Movie." The film helped the song to reach success worldwide and the duo released their debut album, Shades of Purple, in 2000, which debuted at number one in Norway and several Asian countries and in the Top Forty in most other countries. In September that year, the duo toured with Hanson, performing as the boys' opening act.

The single acheived moderate success in the US, reaching #21 on the Billboard Hot 100. The single has sold over 2 million copies in the US alone and topped the charts in over 12 countries..

Tracklisting:
1. Don't Say You Love Me
2. The Feeling is Gone

Click here to download "Don't Say You Love Me"
Password: topoftheflops
Labels: Girl Bands, M2M, One Hit Wonders
Message from Matt
13 February 2008 // 11:45 PM


Hey guys,

I don't know if you all are aware of Joyce, but I have been in e-mail correspondance with her for about a year now. I got an e-mail from her late this evening after not having heard anything for a while.

Anyway, her mother has recently passed away after having a bad fall. "She collapsed on Nov. 18th on a Sun. morning getting ready for church. She never recovered and passed away on Nov. 30th. Not only was she my mother, but she was my mentor and spiritual adivsor, and I realllllllly do miss her."

I just hope you all will keep Joyce and her family in your thoughts and prayers.

x Matt
Labels: Messages
Michael Tolcher | Sooner Or Later (2005)
// 5:34 PM


Michael Tolcher is a little-known independent artist best known for his song "Sooner Or Later." The track, from his first full-length LP "I Am," was used as the theme song for the 2004-5 ABC drama "Life As We Know It," starring Kelly Osbourne, Ben Foster and Sean Faris.

Michael blends pop, blues and urban grooves into a smooth, upbeat song that was surprisingly a flop! The single failed to chart and the album has only sold 80,000 copies to date.

Tracklisting:
1. Sooner Or Later (Radio Version)
2. Sooner Or Later (Album Version)

Click here to download "Sooner Or Later"
Password: topoftheflops
Labels: Michael Tolcher, Theme Songs
A brand new affiliate!
// 12:01 PM
Hey guys,
Make sure to check out our new affiliate,
A Rock Steady Vibe
!
I also wanted to let everyone know I'll be doing a good bit of posting this week as I've got a couple weeks of dead time to make up for! I just posted the third installment of our Essentials series - make sure to comment on the Tagboard and tell me what you think.
x Matt
Labels: Affiliates, Messages
Dixie Chicks | Essentials (2008)
// 2:32 AM


The third in our new "Essentials" series, the Dixie Chicks package includes all of their biggest hits as well as some lesser-known single and radio releases. Thirteen of the included tracks charted within the Top 10 (six of them #1) on the Billboard Country Singles chart.

Tracklisting:
1. The Neighbor
2. The Long Way Around
3. Everybody Knows
4. Not Ready to Make Nice
5. I Hope
6. Travelin' Soldier
7. Landslide (The Sheryl Crow Remix)
8. Long Time Gone
9. If I Fall You're Going Down With Me
10. Without You
11. Cold Day in July
12. Goodbye Earl
13. Cowboy Take Me Away
14. Ready to Run
15. You Can't Hurry Love
16. Tonight the Heartache's On Me
17. Wide Open Spaces
18. There's Your Trouble
19. I Can Love You Better

NOTE: YOU NEED TO DOWNLOAD BOTH PARTS TO EXTRACT!

Click here to download "Dixie Chicks Essentials" - PART ONE
Password: topoftheflops

Click here to download "Dixie Chicks Essentials" - PART TWO
Password: topoftheflops

The next "Essentials" collection: Lil' Kim!


Labels: Country Music, Dixie Chicks, Essentials
Kathie Lee Gifford | Sentimental (1993)
// 1:07 AM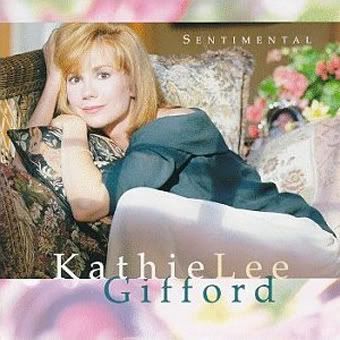 After a 20-year career doing game shows and night club acts, Paris-born Kathie Lee Gifford spent 15 years co-hosting "Live with Regis & Kathie Lee," one of the most successful daytime talk shows in television history. During her stint on the show, Gifford also appeared on TV specials and wrote books such as "Christmas With Kathie Lee" and her autobiography "I Can't Believe I Said That!"

She has also released numerous independent albums including 1993's "Sentimental."

Tracklisting:
1. When I Fall in Love
2. I Don't Know Why (I Just Do)
3. Over the Rainbow
4. The Very Thought of You
5. There I've Said it Again
6. (I Love You) For Sentimental Reasons
7. That Sunday, That Summer
8. It Had to Be You
9. Hey There
10. That's All

Click here to download "Stole"
Password: topoftheflops
Labels: Kathie Lee Gifford
Blondie | No Exit (1999)
12 February 2008 // 11:52 PM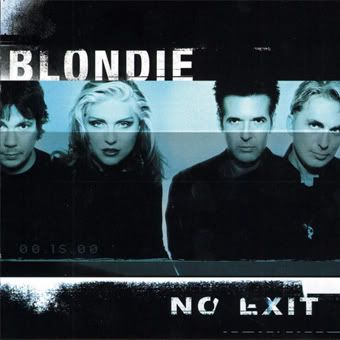 "No Exit" was Blondie's seventh studio record, released in February 1999. When it was recorded, it marked the time time that the band had recorded or performed together since 1982.

Hailed as a huge comeback effort, the album peaked at #3 in the UK charts. It spawned two UK singles - "Maria," which became the band's first #1 debut, and "Nothing is Real But the Girl," which peaked at a paltry #26. The title track was also released as a US-only single but met with little fanfare.

Tracklisting:
1. Screaming Skin
2. Forgive and Forget
3. Maria
4. No Exit
5. Double Take
6. Nothing is Real But the Girl
7. Boom Boom in the Zoom Zoom Room
8. Night Wind Sent
9. Under the Gun (For Jeffrey Lee Pierce)
10. Out in the Streets
11. Happy Dog (For Caggy)
12. The Dream's Lost on Me
13. Divine
14. Dig up the Conjo

Click here to download "No Exit"
Password: topoftheflops
Labels: Blondie
Message from Matt
// 11:49 PM
Hey guys!
I've been reading the tagboard comments and I just wanted to apologise for the lack of updates and poor communication. I'm a college student so school and work take up a lot of time, as well as visits home.
Things should be slowing down a bit so I will be updating a lot more! I'm uploading a couple of good albums right now as a matter of fact.
Thanks for sticking with me and the blog!
x Matt
Labels: Messages